Hello Fiends! I hope you've all been doing well this season. Lately, I've been trying to knock out my arcs and finish all the series that I'm currently in the middle of. Since I've been spending a lot of time with sequels and middle books, I decided to compile a list of some of my favorite middle books I've read! In terms of trilogies/book series, middle novels are some of my favorite books because the author starts taking risks and building in higher stakes for the plot; they can make or break a series which is why I enjoy them so much.
Warning: There will be spoilers for book series in here so if you see a book you haven't read, read at your own risk.
Godsgrave
Nevernight is a great book, but Godsgrave takes it to a whole different level. Mia goes from an assassin to a gladiator and the fight scenes we get are UNREAL. Plus this is the book when we get official confirmation that Mia is bisexual and we get a great enemies to lovers romance… Truly a middle book to remember.
A cOURt of Mist and Fury
TRULY ICONIC. (If you haven't read this or the ACOTAR series but are planning on it, skip this section because I am about to spoil everything.) Alright… Listen. I don't even like SJM books that much but 18 year old me was SHOOK when SJM just threw Tamlin out the door and gave us Rhysand as a new love interest. Like lowkey, it's what I always wanted even from the first book, but I didn't expect her to deliver the ship so hard. SJM took all the character and relationship development from book 1 and threw it out the door for a brand new one and I just think that's very brave of her. Most authors stick with a pairing throughout the whole series but SJM changed it up on her readers, making it a middle novel to remember.
The Queen of Attolia
If you've never read The Queen's Thief Series I highly recommend you check it out! The first book reads as more of a heist/adventure type novel, with the main character looking for a treasure. The second book turns the series into a political intrigue fantasy with a lot more plots and court intrigue then actual heists. However, what really makes this book stand out is the romance that happens between two very unlikely characters. It's a slow burn but once they get together the rest of the series is fantastic because they are POWER COUPLE.
A Storm of Swords
Alright, the ASOIAF series isn't always my favorite in terms of content but like… when GRRM wrote this book, he really built-in some intense political drama and then made it explode by the end of the book. What made this book such a strong candidate for my list is that GRRM wasn't afraid to take a risk and he killed SO many main characters in this novel. However, this sets the stage for some great new supernatural beings and some side characters to take a place in the spotlight. In terms of the following books, they get a little monotonous because none really hit the same level of wild as this one does. (Side note: Don't ask me about the show, I'm still hurt.)
The Wicked King
The Wicked King was one of my favorite books of 2019 because Holly Black delivered that enemies to lovers content so flawlessly. She took the drama from the first book and built off of it to create an extremely fun, court intrigue novel that most YA books can only dream of having. All of Jude and Cardan's interactions were so GOOD. The plot was high stakes and it had such a surprise twist at the end, that I was uncertain of the direction Black would take with the third book. All I'm saying is that, if I finish a book and have tons of different theories about the end, I'll be impressed. It's not just anyone that can turn me into a conspiracy theorist.
Words of Radiance
Is it really a list if I don't include at least one Sanderson book? Last year I read the Stormlight Archives and while it was a massive undertaking, I loved every book. Words of Radiance happened to be my favorite of the 3 because there were a lot of plot points, characters, and events that intersect in this story and it was incredibly satisfying to read. Plus Kaladin and Shallan undergo some intense character development that I LOVE.
Prisoner of Azkaban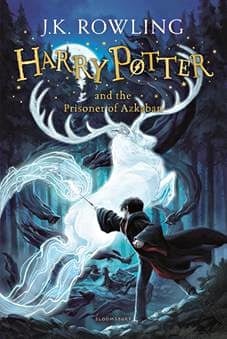 Yes, I am basic as hell but Prisoner of Azkaban is a book that introduces some vital characters and concepts to the Harry Potter Universe. We see Hermione once again save everyone's asses by providing the time-turner, a magical clock that turns back time and enables Harry to rescue Buckbeak. The marauders and their magical map are introduced, leaving us with far too little information about all the adventures the marauders had. AND we get our first glimpse at dementors and all the havoc they can wreak in the world. At this point, I've sworn off of new content from Rowling, but this book really has a special place in my heart that I will always treasure.
CATCHING FIRE
I absolutely did save the best for last. Catching Fire is the middle novel that has it all. No words can express the utter shock and despair I felt when President Snow announced the quarter quell would reap two winners of previous games from each district. I felt like I had been punched in the gut. No follow up novel could ever deliver that kind of plot twist at the start and still manage to create such an engaging story. Plus Finnick and Johanna were the best new characters introduced… I had to stan. While I don't particularly like the last book, I still fondly remember reading this book and all the hype leading up to the second movie was incredible. Sometimes I miss those days.
I'd like to end this post by saying that I love middle novels because they give authors a chance to experiment with new ideas and plot points without worrying about trying to wrap a series up. Third books tend to disappoint me because all the build up from the middle novel rarely carries over into an ending that feels natural (unless you're Sangu Mandanna and in that case I have full faith in you).
But I'm not here to mope about the worst endings to a series, I want to know, what are your favorite sequels or middle novels in a book series? Have I forgotten any? Let me know in the comments!